Equipment Management 101
Expert Advice on All Things Equipment Management
What are the most common equipment workflows?
Whether you're part of a media company or a university, a big corporation or a fast-paced start-up: we all have workflows that are often subject to change.
There might be some flaws in your current workflow that need to be handled, or then you might have a sudden increase in your equipment inventory and/or team, and your current workflow is just not working anymore.

So how can you decide on what new workflow works best for you and your team? In this section, we've written down some of the most common workflows when it comes to equipment management.
Open equipment room – self-service all the way
This first option is for those of you who have decided to have an open equipment room, where team members can go in and grab the items they need. This usually goes along with the following:
Small team

High level of trust between team members

Fast-paced environment
When you often deal with double-bookings or bottleneck situations, it is best to encourage the team to reserve the gear they need as soon as they know what projects they have coming up. This will also allow you to see which items you might want to rent from a third party company, whenever you notice busier times are around the corner, to make sure every team member has the equipment they need.

In a fast-paced environment, there might not always be enough time to make reservations. Instead, team members might run into the equipment room, grab what they need and run out the door.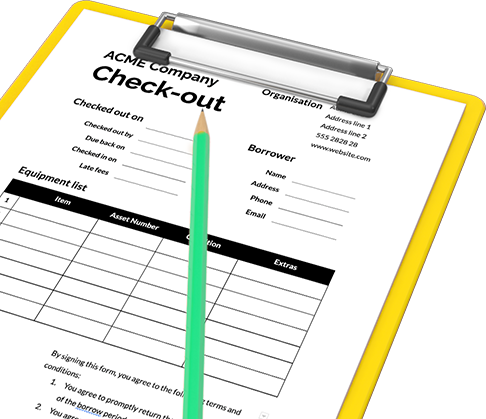 Quick tip
Leave a sign-out paper or tablet at the equipment room or kiosk where it's easy for everyone to quickly mark what they have taken, and when they will bring it back.
Download your signout template here:
Download
Open equipment room – it takes two to tango
When the team starts getting bigger and the number of projects are growing higher and higher, it might be a good idea for the project managers to cover the scheduling part. They hear about an upcoming shoot, check the calendar to see which team would be available at that time, and reserve the necessary gear for them.


When the day of the shoot arrives, the team can go into the equipment room and pick up the gear that was reserved for them.


This workflow usually goes along with the following:
Medium to big / large team

Scheduling is handled by project manager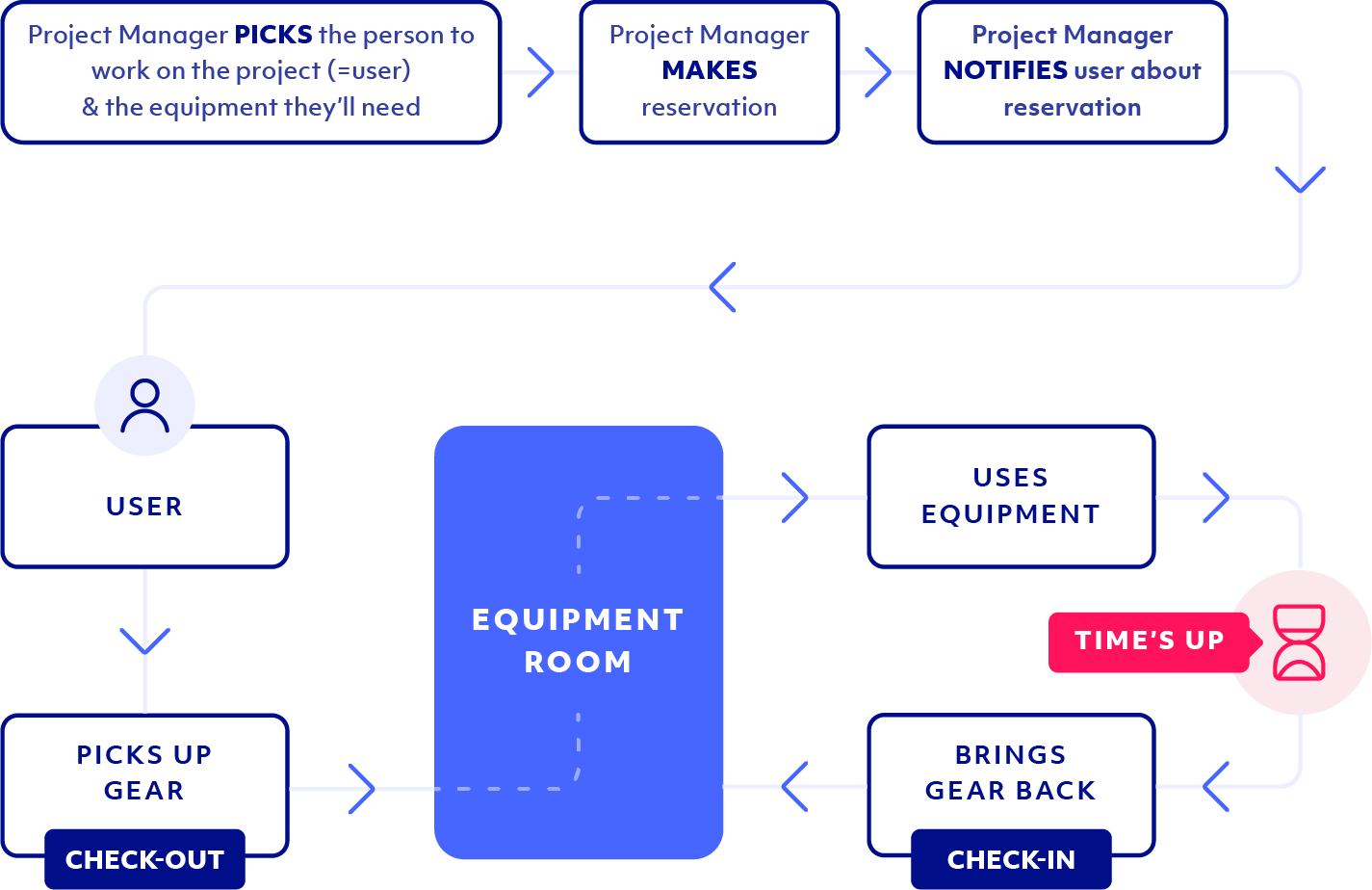 Closed equipment room
If the number of users becomes that big, you want to keep the equipment room locked and only accessible to few people. Not everyone should be coming in and out of the room, especially when dealing with a lot of expensive gear.
You can have one or more people in charge of the equipment room, who will prepare the equipment pick-ups beforehand, so team members or students can just come and pick them up.
This workflow comes with:
A large number of users

One or few people in charge of the equipment room

Check-outs handled by those people in charge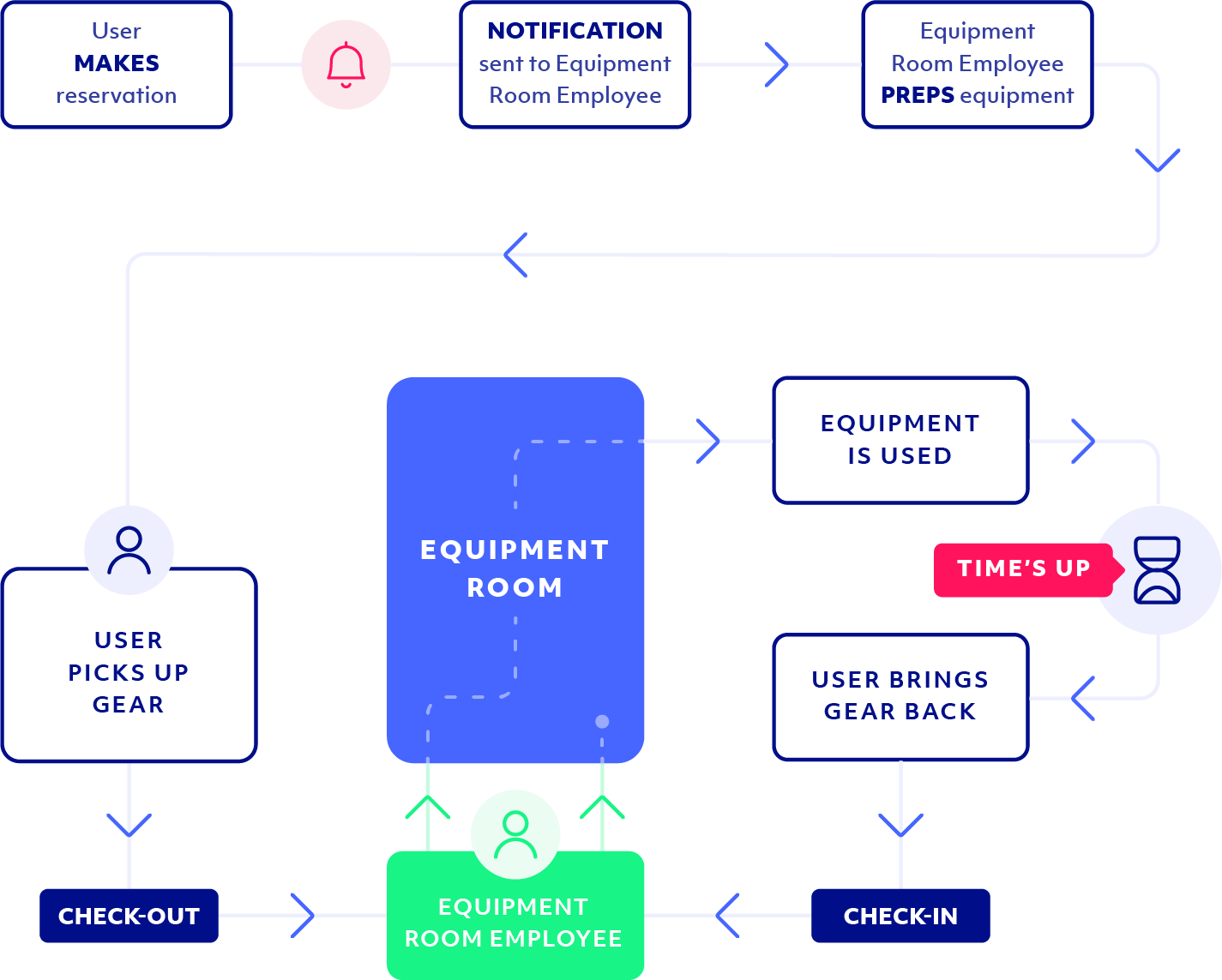 When dealing with this many users, and perhaps even freelancers or rentals, you might want to ask for a signature at pick-up to have some extra accountability. Besides the signature, you can add some basic terms & conditions on the agreement for when the gear gets damaged or magically disappears. Better safe, than sorry!
Try CHEQROOM free for 15 days. No strings attached.
Never lose track of equipment again.